Rachel's Story
Follow the inspiring story of Rachel, a remarkable young woman from the Eastern region of the Democratic Republic of Congo. Witness the profound impact of ThinSpace and our African partner, Rebuilders Ministry, as Rachel is provided access to professional training. In a community ravaged by war and tribal conflicts, Rachel dares to dream big, not only for herself but also other young girls.
2. Leadership Summit 2023
Strengthening Change Makers' Capacity
Watch this compelling journey as we witness ThinSpace's relationship within African Leaders in Uganda and the Congo. We strive to strengthen their leadership and ministry capacity. As we spend time together, we learn from one another, we are always in awe of the passion, dedication, and vision of these incredible women and men who serve everyday to bring transformation within their communities. 
Moving Towards Peace and Reconciliation
Pastor James Byensi was moved by the realities of violence and wars that have impacted millions of lives in his Democratic Republic of the Congo. He then initiated a movement of peace and reconciliation that has transformed thousands of lives. This story offers a glimpse into the extraordinary, yet unfinished, story of hope and its transformation.
A profound impact in Uganda
See the tireless efforts of NOAH'S ARC to eradicate poverty and foster a thriving community void of hunger, destitution, and illiteracy. With a steadfast commitment to their mission, NOAH'S ARC extends spiritual guidance, imparts essential education, and extends nurturing care to children, many of whom are orphans.
At NOAH'S ARC, children not only find a family but also the tools to transform their course towards self-sustainability. It is a journey that resonates with hope, care, and the decision to create a better present and future, moving children and communities from vulnerability to empowerment. That is what NOAH'S ARC does.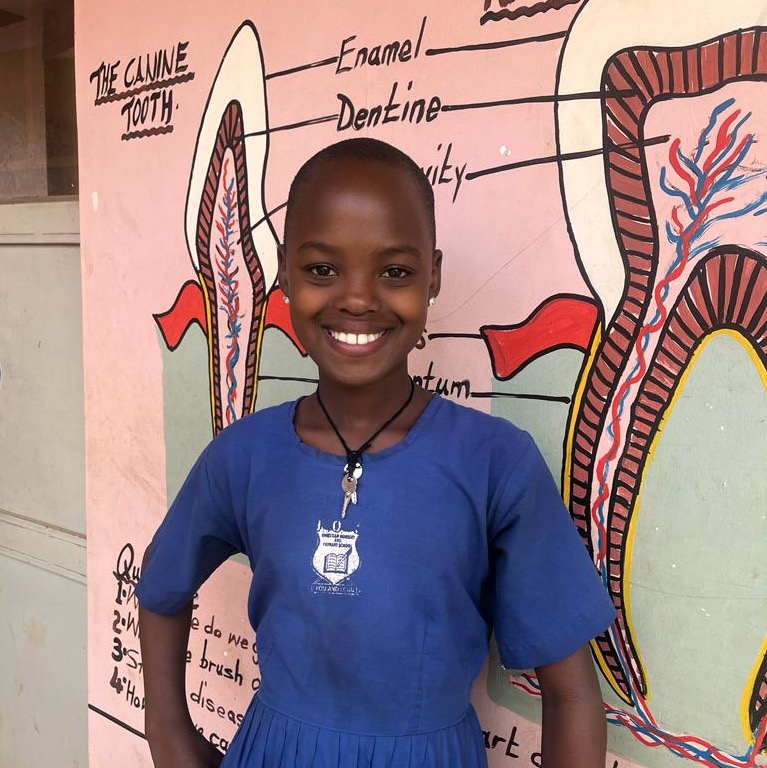 5. From Amalfi to Kyenjojo
Dr. Susan and Jamimah
Last May, Dr. Susan L, a Los Angeles based veterinarian, was on vacation on Italy's Amalfi Coast, a world of beauty, culture, and cuisine. At the same time, her friend, a ThinSpace Board member, was in the heart of Africa, serving at Noah's Arc with Ken and Beatrice. During a phone conversation one night after she experienced an amazing dinner in Amalfi, the ThinSpace board member shared the stories of the children of Uganda and, feeling a tug of compassion, Dr Susan inquired about supporting a child's education at Noah's Arc.
What she did not know was that on that very day, her friend had heard the news about a girl who was in need of assistance.
The following day, a connection was made between Susan, Ken, and Beatrice. They shared the story of Jemimah, one of the Ugandan children, and while on the coast of Italy, Susan decided to partner with ThinSpace Africa and Noah's Arc to ensure that Jamimah receives the necessary support for her education now and for the years to come.
Dr. Susan has traveled to many parts of the world, but never to Africa. But, because of that God's encounter, this is about to change. Susan has booked her trip to Uganda and in a few months she will be visiting Ken and Beatrice. She is excited to meet and spend time with Jamimah as well. The journey that started as a conversation between friends, one in gratitude for what she was experiencing in Italy, and the other sharing the stories of the children of Uganda, was just the beginning of an ongoing relationship. Dr. Susan L's and Jamimah's biggest joys and blessings may very well still be ahead of them. This is the work of God!
6. Hope Again Medical Centre:
Healing in the Midst of Crisis
Amidst the devastating HIV/AIDS epidemic that swept Uganda in the 1990's and early 2000's, Faith Kunihira left her job in the central part of Uganda and returned to her native village to help her own people. Witnessing the immense suffering and the urgent need for healthcare, she envisioned a sanctuary of healing for the most vulnerable in her community. The Hope Again Medical Centre was one of the first initiatives of what Bringing Hope to the Family would become.
From its humble beginnings, the Medical Centre has grown to be a symbol of care in the community, as the clinic touches the lives of over 21,000 clients annually. Join us in celebrating this remarkable journey where hope has triumphed over despair, and healing has taken root.